I am so excited to share this blog post today! I am finally getting caught up on blogging, and this venue is one that I can't wait for everyone to learn more about!
The 4 Eleven is a wedding venue located in Fort Worth right off of Main Street. One of the coolest things about this venue is all the shops and food destinations that are located within walking distance of the venue. It is great for clients who want their guests to get the downtown Fort Worth experience, and be close to hotels nearby!
THE 4 ELEVEN - GARDEN PATIO
When you walk through the 4 Eleven's sliding wood door you immediately enter the garden patio. It's brick walls, greenery, and industrial elements is seriously stunning and is perfect for a cocktail hour or even a small outdoor ceremony.
THE 4 ELEVEN - WAREHOUSE
As you walk inside the 4 Eleven's interior, also known as the Warehouse, you are immediately drawn to its tall ceilings, cool industrial chandeliers, and white walls that are sure to leave your guests impressed. Its large interior allows for much variety in the floor plan and can hold up to 300 guests with a dance floor, but it is also perfect for smaller weddings of 100 guests.
The Mezzanine is another unique space in the warehouse, that can fit up to 100 guests. Guest access it from the double staircase, and it's large space's balcony allows for plenty of natural light. This Mezzanine is perfect for lounge spaces, bars, or even guest tables.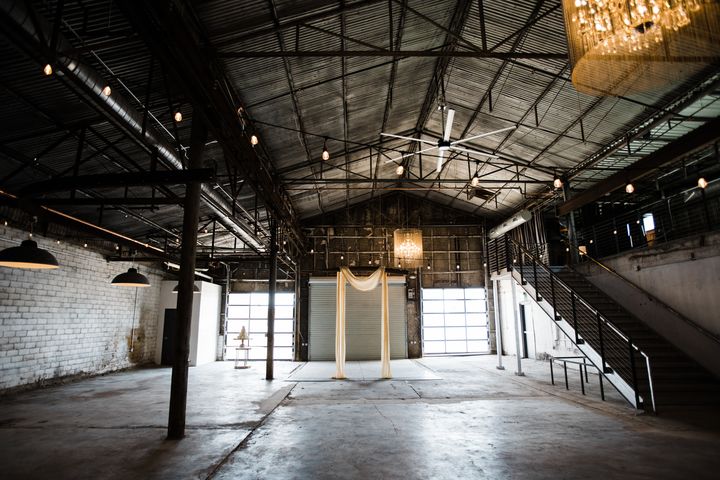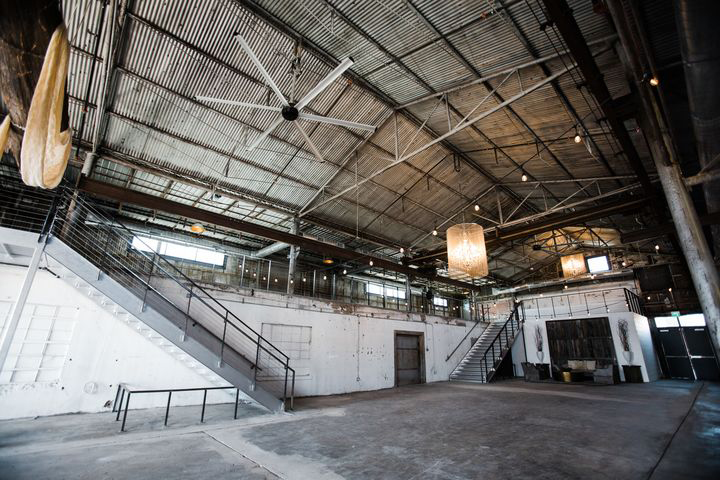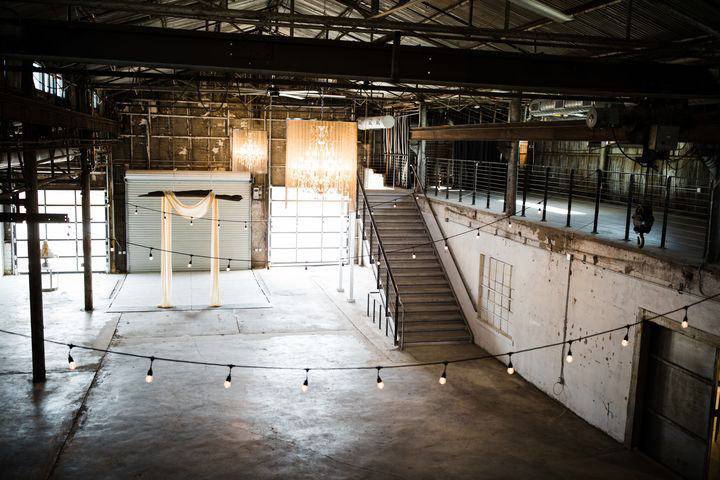 THE 4 ELEVEN - BRIDE & GROOM'S SUITE
The 4 Eleven not only has a bride's suite but also the groom's suite, that is upstairs, so the bride and groom can get ready at the venue. The bride's suite, also known as the Baker Suite, is located on the first floor. It has a two room kitchen & living space that is fully furnished in a mid-century modern style. The Baker Suite can also be used for photo reveal or even small girlfriend gatherings.
THE 4 ELEVEN - RENTAL INCLUSIONS
The 4 Elevens offers multiple rental packages for you to choose from, and they have an open catering & alcohol policy.
Check out The 4 Eleven website for more information!
THE 4 ELEVEN - INTERVIEW
Shannon Rose Events: How did you get started?
The 4 Eleven: "In 2016, we envisioned creating a spot that would bring people together to experience the best of Fort Worth – all in one place. When we first saw the raw warehouse space with vaulted ceilings, second level mezzanine and the beautifully aged walls, we knew this space would create the perfect venue! We put our heart & soul into making that dream a reality and are so proud to be a part of the South Main neighborhood and Fort Worth community."
Shannon Rose Events : What is one of your favorite memories so far?
The 4 Eleven: "With construction finally wrapping up in November of 2017, we had the opportunity to host Shop Small Fort Worth's Holiday Market. This was the first time the venue came to live with hundreds of patrons bustling around the property and visiting our retail stores."
Shannon Rose Events: What is one interesting fact about the 4 Eleven?
The 4 Eleven: "Our building was built in the 1920s and has housed various businesses over the years including a foundry and manufacturing company. Over the years, portions of the roof caved-in and were not replaced. This organically created our Garden Patio with shady oak trees and ivy covered brick walls."
Shannon Rose Events: What makes the 4 Eleven unique?
The 4 Eleven: "4 Eleven is unique because we're more than just an event venue. We have retail stores and a restaurant space that can collaborate with the brides and grooms to help elevate their special day. Another quince fact is vehicles can be driven in the venue, such as a photo bus or AirStream mobile bar. Lastly, we're an open vendor and BYOB establishment that can accommodate 400+ guests."